Ring of Repugnance
How could I use such a title for such a great trip? Well, perhaps it just has a nice ring to it, but really you just had to be there! Sometimes the silliest things become the center of conversation and it's hard not to associate them together! Call it the antithesis of our time at Black Canyon where 23, 24--28?? folks showed up at various times to circle-mingle around the canyon to share talk, food and music--and to enjoy the awe inspiring beauty of the river below Hoover Dam.


I was all set to miss this trip with my car's transmission going out earlier in the week, but Santa Barbara offered me her Turbo Subaru and I couldn't say no (I was a bit upset when I learned the car lacked an 8 disc CD changer!). I had to fight the clutch and rush hour traffic on the way out to Lake Mead, so when I showed up, it was the cue for everyone to head to bed after listening to Steve, or Fearless Leader, sing around the camp fire. Barb and Debra had already set up my tent and inflated my giant air mattress, so after a couple quick dogs for dinner, I was off to bed.



Our Fearless Anti-leader!


Some folks headed for the casino in the morn for breakfast, but most seemed to want to get an early start at Willow beach. We were somewhere near the low 20s in number when we took out. My unofficial and surely incomplete list: Steve W. and H., Ken & Barb, Debra, Lenora, Tim, Des, Bob & Meri, Win & Carole, Dave O, Bill W., Pete, Cartographer Kirby & Karen, Chuck & Lori, John and Elijah, Cheryl & Bill???, Me and ?????. We all got staggered starts on the water, but we were all about off by the 8am.


It was a beautiful paddle against a small current and I hugged the cliffs to keep in the shade as I paddled. The Lollygagger was loaded top to bottom with a small cord of wood in the front hatch for the communal firestorm. I was amazed by the crystal clear water with the green grasses flowing under me as I paddled. It was a great time of year to be on the river with a lot of greenery on the cliffs. It was about 8 miles to the Hot Springs camp, but the pace was leisurely so we could enjoys the sights. The early folks hit Hot Springs and hurried to scope out a tent site, but there was plenty of room and soon we were all down on the beach helping everyone get their boats up to be safe from any rising tide. We were pretty much all present or accounted for when out of no where paddled up somebody in red Point Bennett to join us! Duane had got the time off from work at the last minute and left home at 3 in the morning to try and join the group. He was quite impressed that under Steve's leadership, we were all on the water before he hit Willow at 8:30!


Setting up camp isn't usually the highlight of any camping trip, nor was it for us with the rapidly increasing heat off the water. I was lucky to get a quick, cold margarita from Bob to ease my burden. Soon we were all spread out in groups, sharing what ever shade available. It didn't take too long, though before everyone meandered down by the water to hang out and enjoy the much cooler breezes. Duane, being so close to Vegas, was in a betting mood and challenged anyone to swim to the rock with an eddy swirling around it that sat right off our beach. Little did he know Cheryl is a trained Lifeguard, so she swam out and back and made him cry! Later, he did it as well just to show it was a feat in the realm of mortals!




A Ring of Repugnance??? Can't reveal what all went on in these conversations, but I hurt with laughter! Duane can't blame me for this crack shot, I'm in the photo!


K and B, Debra and I seemed to be the unofficial hosts on the night, as everyone brought their assorted chairs to eat hors d'oeuvres and many, to cook their dinner right there. If our group wasn't already unwieldy enough we were happily joined by JeanDrew and her friends Ed and Louise??? Some one had the audacity to ask the perpetually smiling JeanDrew why she smiled so much and she said, "what else are you supposed to do with your face"! Excellent point!!! Sadly, we were all tired from out trip and the night was quite hot, so nobody wanted to light a fire with the ton of firewood we'd all hauled up river. And to go along with all the native desert critters, it turned out a somewhat more domestic pest had stowed away on the back of my kayak--La Cucaracha! To all our delight, Steve was able to tame it and make it sing and his voice literally filled the canyon and had the whole campground joining him in song! Since La Cucaracha had found its way there on my boat, I felt obligated to wrestle it for a while and Barb joined me on one song for a tag-team match. Lenora was adding upturned Tupperware percussion and later was persuaded to sing La Bamba with her and Duane showing off their dance moves!
La Cucaracha


Later, a group headed out for the hot spring, but with the heat and the brain feasting amoebas, I wasn't really interested. But then I thought I should at least go check them out, so Barb, Debra, Carole and I made the short trek through the water and up the ladder to say hi. Carole say the others having so much fun, she ripped off her cloths and joined them! I assume that was a suit she was wearing beneath her civies! That jaunt sent me off to bed, but I was serenaded in my tent by Steve who stayed up in our camp playing for a while more.


Morning saw us all mingling again and it was in some reference to camping life that Bob brought up the term Ring of Repugnance! Perhaps we should just assume it refers to how the ring of people talking gets a little bit wider in deference to others as the camping experience goes on with no showers available! It mattered little, as we got an early start on the water to head up to the dam for more sight-seeing.




The paddle was amazing, the bridge was amazing, the dam was amazing and no one was in a hurry to head back to camp. Duane was heading up to the Sauna Cave and told me to come, but I'm really not a sauna fan. Still, I decided I oghtta go and joined Debra, Lenora and Duane. Debra and I went in just a bit and both of of us thought that was enough, but I decided to endeavor to persevere and made it to the bitter end. We sat there in utter darkness, although Lenora thought she could see the shadow of her hand in front of her face. It was one of many eerie experiences for me on the trip.

Out of purgatory, I headed for another Ring of Repugnance--a rock jutting up near the surface in the strong current and creating an eddy to repel any boat that came near. But if you came up right behind it, you could sneak in and ride the small standing wave with very little effort. I know Duane, Debra, Lenora and Chuck all took turns and I'm sure more did while I wasn't watching.




Surfing Ring of Repugnance


Heading home, I sadly ran into a real ring of repugnance. A rafted group of canoes with about 20 young people who couldn't seem to utter one word without a cuss word modifier. I chalked it up to youthful exuberance, but as I flowed down river with them, it became too much to take. I know a lot of people thing nothing of cursing--it's only words right?!? But to be in such a majestic area and to have it sullied by so much profanity was obscene. Latter, I arrived back at camp and the same crew was on the beach with whiskey bottles mostly drained and I watched the drunkards actions on the beach. There was a rather burly man attached to another canoe group who looked like he was made up for a Geico commercial. He was walking down to the beach with a rather shapely young lady and this other group was actually mocking him and his walk and his companion. Knowing cave men aren't always so accepting of criticism, I though there could really be some trouble from a group that looked too eager to provide it, but nothing came of it. With this crowd already so drunk, a few of us were considering leaving the camp that night, but providence intervened and it turned out our camp was only a drinking spot on their way to Willow Beach, where I'm SURE they'd hang out to sober up before driving home!


Soon the CKF 2010 Black Canyon Regulars were back hogging the shade and breezes of the beach. We would have been happy to share the shade with this nicer canoe group, but they were sun worshipers clearly defined by their beet red tan lines on their bodies. At one point though, it got too much and a few of the more sober members brought down some instant shade for the beach. They enjoyed their beer and had a rowdy good time, but never bothered anyone else at the camp.



Duane had won and lost a few bets on the day, but gave up on betting anyone on the rock swim again. But just to show off, he decided to give the swim another go. The current seemed like it might be a little stronger on this day, but it was hard to tell. Duane headed out and whether it was a poor ferry angle or the fact that his pants were falling down his butt, he ended up getting swept in behind the rock. He kept trying for it but it was a lost cause and rapidly tiring, he decided to concentrate on survival! He looked at us with a look of resignation, and it was hard to tell if he was in real trouble. Our Lifeguards jumped into action, but Duane was able to make it over to a rock just downstream from the beach. He took a while to catch his breathe there before rejoining the group to tell us what flashed across his mind before his near death! I think it was something about the irony of having a website called "Roll or Drown"! Never a dull moment!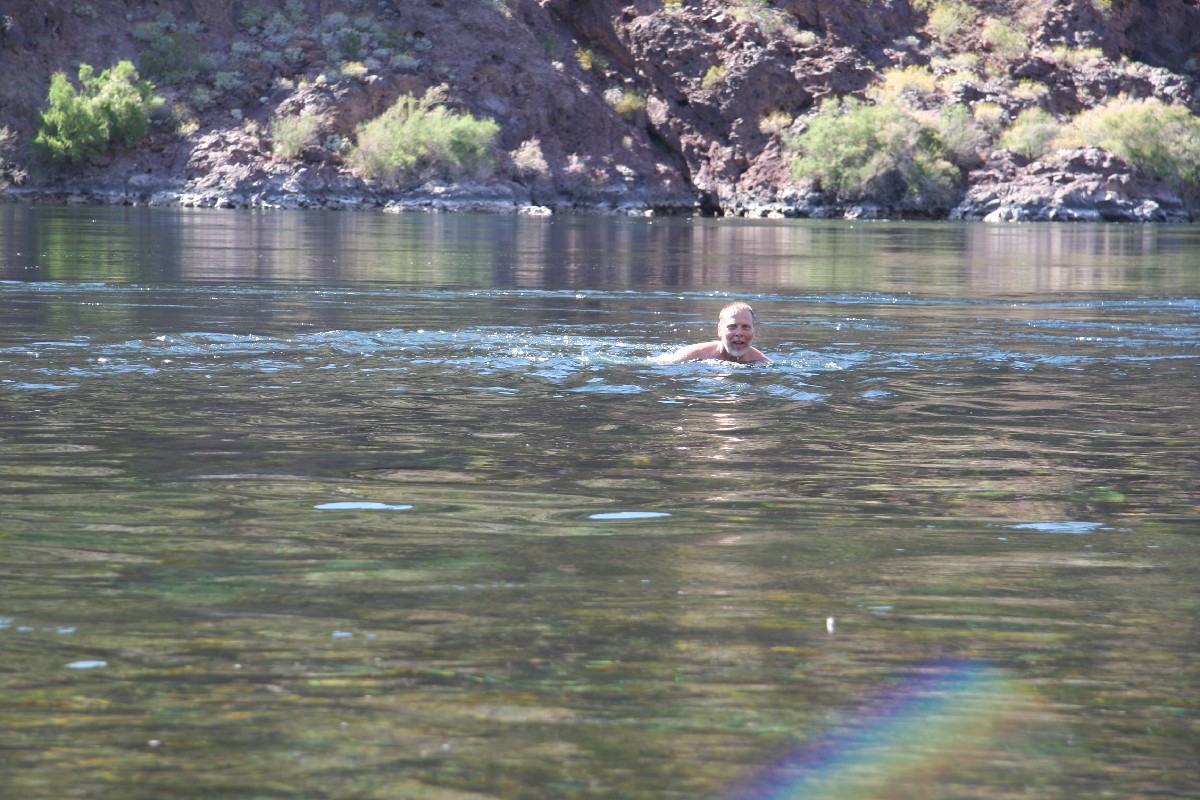 Soon, with the setting sun and the tall canyon wall lending some shade, it was back up to the camps for snacks and dinner. We were determined to burn at least some of the wood we'd brought and with everyone one joining us, the Ring of Repugnance was quite wide around the searing fire! It was another night of fun, food and music. A great last night at Black Canyon!




The Lollygagger with the Bare Essentials! And this was going home!

In the morn, we all loaded up for the paddle home, once again enjoying the beautiful scenery. Besides the beautiful canyon, we were treated to some big horn sheep/mountain goats??? some four legged animals running around like the sheer rocks were solid ground! I paddle most the way alone, then Steve W. and I caught up together for the last few bends. I enjoyed some rather surreal moments paddling this beautiful water. It was a fantastic trip! I'm sure I'll remember more to say later, but now I just want to say I'm so thankful to Steve for organizing it and Barb for lending me her car so I could make it and everyone who came and made it such a great time!



Too beautiful for words!

Home
Mark Sanders