More photos of the Alan Incident!
---

It had been a short, but very active day when we closed in on the point to the boat harbor. I started to notice I was developing a cramp in my leg, I surmised from the new thigh braces I'd installed that were changing my usual leg position. I let Jack know just in case, but as we neared the beach, it seemed to clear. Here we came across a channel that Jack had played it often, but it was showing some gnarly action and no one seemed eager to enter. I headed on to the beach to call it a day, but saw people had decided to dare it and went over to watch. Once again tricky hydraulics made the easy difficult. I decided to give it a go on what seemed an easy pass till all of a sudden I found myself being sucked back by the ebb. I was sucked into a hole by a rock, then spit out upside down past the rocks. Of course my cramp kicked in big time and I was out of the boat flexing the leg trying to stop the pain. I was in an easy spot to re-enter, but every time I straightened the leg, I was in pain. I was for swimming over to the rocks to crawl up and walk to the beach, but Jen was right there with the panga, so once again in my paddling career, I was relegated to the sissy ride—for all of about 100 yards! While we'd engaged in some pretty wild antics on the water, nothing compared to the death defying ride back to camp up a washed out road while standing in the back of a pickup truck! Three of us in the back and only Rowan smart enough to keep his helmet on! When we hit the main road, we saw a most excellent break filling the harbor and thought what a great surf day it must have been, but there are only so many hours in a day. Back at camp a free tequila tasting provided hazards of a different variety and most ended the night around the camp bonfire.
---
Jen's best laid plans took a hit the next morn, when quite a few people thought they'd like to skip the rock play and spend the day in that excellent surf. Always up for a challenge, Jen had the whole camp head to La Jolla to let off anyone interest in surfing before continuing on to the boat harbor. Steve and I had been interested in surfing, but when we got to the beach, it seemed a lot smaller than the day before. We decided to head for more RGing, but a nice sized group led by Rowan stayed to surf.

We hit the water under the watchful eyes of John Carmody, Roger Schumann and Phil Clegg and headed south from the boat ramp. Instantly we hit some interesting features and the group started to spread out a bit. Steve and his buddy for the day were over by a cave, when Steve got sucked in and over. He seemed to roll right up, but over he went again and forgot the cardinal rule of RGing--don't breathe upside down! John was still fighting with his rock, so I had Steve grab my toggle and towed him to shore to empty his boat and catch his breath.
It wasn't long before we all congregated in front of a large cave and people started taking turns heading in. The swell had seemed quite a bit tamed from the day before, so it was a bit of a surprise when a big set rolled in. Jack took instant advantage, flying over a crag on the left side of the cave on a wave that had most of us shaking in our booties! Now the rest of the story is to the best of my recollection as things began to happen rather quickly! John Carmody was worried someone might have been caught by the big wave and went in to check it out when an even bigger set headed in. John got caught in a broach when the wave slapped into the outer face of the cave. He seemed to have handled it hull against the rock and I though he was good to go, but then ended up with a swim. Jack had just made it over the big wave and Phil came in to give assistance and they got John towed to safety and all was hunky dory. We all decided to skip this cave, but Roger brought some of us through later with someone always inside to watch for the rogues!
---

After a nice lunch on a cobblestone beach, we set out for a feature I'd been hearing about from Jack for quite a while--The Wall! We came upon this channel created between a large cliff and two giant rocks to the side. Jutting out from the cliff was the wall. Jack had described it as a exciting washover into nice, safe, deep water and he was right--as long as you made it over the wall and weren't splattered against it! Jack, Roger and I came up into the channel while Jack set up for his first ride. I was trying to get photos, but the churning water made it tough. What's more, I was quite intimidated by the action happening at the wall. It took a good sized wave to make it over and the preceding ebb create a gaping face of what seemed to be 8-10 feet! A good sized wave might take you two feet high over that making for quite an elevator ride! Jack had no problem and Roger, Will and Patrick all took turns over the wall. I lined up once, but thinking myself not 100% with my leg, though better of it. Still everyone seemed to hang around to watch. Finally it seemed we were ready to leave when Roger headed up the channel to see if we could exit there. He started to back up when a big set came in and really started the channel roiling! I got hit by some kind of reflection that sent me into Roger, with his stern landing on top of my bow. We got free, but the churn continued and I was getting sucked into the wall! I though I was going over like it or not, when the ebb came and sucked me down toward the sides of the wall. I missed my brace and was now careening upside down with no clue where I was heading. I had no clue of where to set up to roll against the current and soon out of air, pulled the trigger. I heard Will I think, right there to give me an assist, but thought my best hope to swim clear. Soon I was in some relative calm and quickly back in my boat. It wasn't the experience I'd planned to have at The Wall, but it will make a nice story in the years to come. There were still a lot of great features to come on the day and everybody seemed be pushing beyond the limits they'd brought to Baja.

Slide show of The Wall
Cold and wet condition made photos difficult, but I still wanted to share these
---
Despite how it may seem, not every hour of the day was spent hitting or dodging rocks on the water. Saturday night a bus arrived at camp to haul everyone down to a local winery for a tasting of both wine and food. Steve and I followed in his van with a special surprise for the participants. We were all sitting at table of 4, until Marketta, one of the paddlers who owns a winery, got everyone to move the tables into bigger groups for more of a party atmosphere. The wine and food was great and then came the entertainment. Two ladies who had arrived at camp in a car emblazoned "Baja or Bust" had a song they'd written for the occasion. So with harmonica and kazoo and accompanied by Steve on the guitar, we heard a great song about taking challenges in life. I came next with Mineral Spirits and Steve finished off with his great La Bufadora song. Afterward, a friend of Victor's gave a nice slide show of all the great things to see in Baja, which made me hope to come back again.
---
My last day on the water, we were led by Sean Morley and Paul Kuthe. The plan was to head north to check out the point. We were soon into some fun play areas and Steve quickly got bridged between two high rocks. We knocked him loose and soon were all playing in some tricky hydraulics. There was a tough washover with waves meeting from both sides, where I got knocked over and pushed toward the side rocks. I blew my first roll and was setting up for the next when Paul zoomed in to make sure I got up. Don't know if he'd grabbed my boat to help, but I still call it a successful roll in some nasty stuff. We continued on through slots and giant rocks and good sized swells. I was glad I made it this way to see the beautiful coastline. After huddling by a cliff for a cool, breezy lunch we continued on the point. Stuff got a bit big here and it was mostly just Sean, Paul and Jack taking advantage of the features, but it was still great to see and hang out in the churn. We were supposed to have a tail wind for the paddle back, but nature didn't oblige. We headed back hugging the coast to avoid the wind till we had to clear the exposed point. Here it was just a long slog through heavy chop and wind, but it was still exhilarating! Steve and I were ahead of the group and I heard that Sean found a bit of trouble on the way back, but I'll have to wait to hear about that story.
---
Photos of me by Jake Stachovak

Finally we were close to the beach when I went to check out the blow hole for the first time. Jake was there just finishing up with a few of his paddlers, when I took my first try inside. Most of the blows weren't too exciting, but now and then a bigger one would go off. I went in a second time, deciding to get in as deep as I could, when Jake warned me a big one was coming! Now his warning didn't seem like the &quotget out of there, you're gonna die!&quot type, more of the &quotman I want to see this!&quot type! I readied to back up into the swell to maintain my position, but the swell was much bigger than I though and I really had to dig to keep from hitting the wall. I was fighting the churning water hoping the blow would come and help eject me from deep inside. But when the blow came, I was flabbergasted, a giant wall of water unlike any I'd seen sent me careening back and side to side, bracing for my life! I thought for sure I'd be swimming in the frothy water, ready to be sucked into the blow hole, but managed somehow to stay upright. As I turned around to exit, the crowd above was cheering, whether for the massive blow or my boat handling I can't say, but I hope it was a bit of both! I know my knees had turned to rubber and Jake said his were too. He thought he'd have to come save me! It was a fantastic end to an incredible weekend of paddling!
---
Me and Steve

So now I'm back at home reliving the amazing experience. Jen, Victor and all the teachers had been amazing. I can only imagine how good a paddler I could be if I could play in that kind of water all the time. Every feature seemed to hold some hydraulic challenge. I'd long wanted to paddle in Baja, but it was this event and all my friends attending that overcame my silly reluctance. I've run out of adjectives and accolades; all I can say is sign up for next year.

And when I close my eyes, I still see white water charging through the rocks!Mark Sanders
---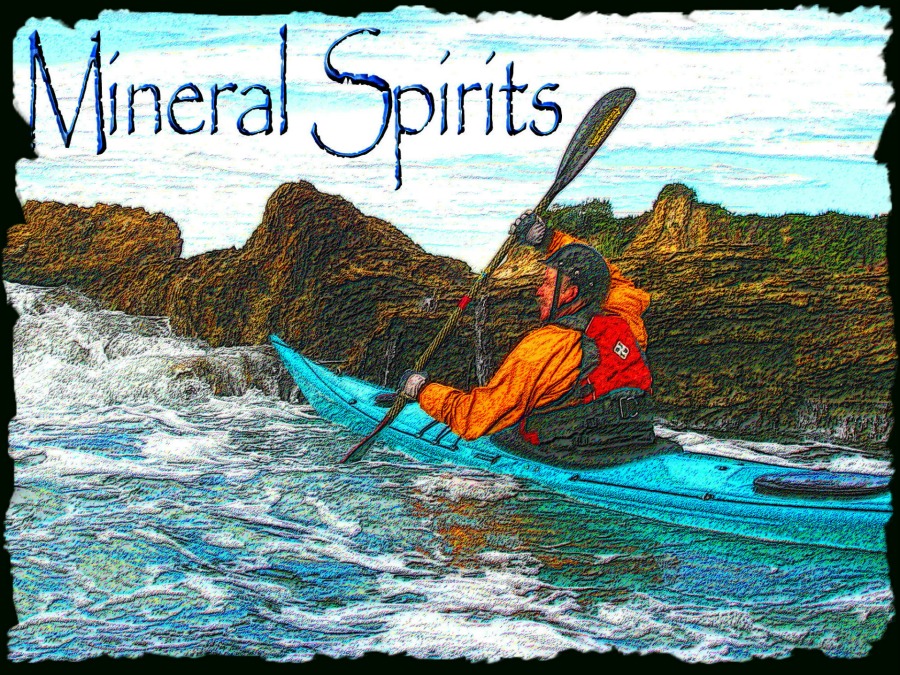 Ever since I first started kayaking, I heard about these strange creatures called "Rock Gardeners!" It was a term that seemed appropriate for Tsunami Rangers and other daring elites of the kayaking world. Now, as I play about near the rocks and the waves, I'm still not sure that I've earned the title. So I've coined a new term for people who feel drawn to paddle where the sea meets the land, Mineral Spirits! If you want to know if you are one, check out my song and video to see if you agree with me!


---

Mark Sanders

also visit
SandMarks.net