Squaw Peakish
Usually when I hike at Rock Canyon, I think of myself traveling nominally horizontal, as the trail lacks the up and down course of many hikes. But within 3 miles, you find you've gained over 2,000 feet in elevation! Today I decided to make a sharp left as soon as I got inside and try going nominally straight up!
Squaw Peak is a prominent local landmark and if you hike in a mile and a half there is a fork that will take you back around to the top, but I wanted to try going up a steep rubble field at its base to see how far I might make it. A nice part of the idea was most of the way was still in deep shadow from the cliffs next to the peak.
Here you can see a scree field on the other side of the canyon, similar to the one I was on.
A view of Utah Lake from the start of the upward section
Here's a picture somewhere near where I stopped. If you enlarge the pic, you might see the person walking on road on the other side of the canyon that I hoped would give some perspective.
I was happy to reach this spot, as I'm clearly not used to such a grade and the loose dirt and rocks made you slide back a foot on each step. I had taken a pair of hiking poles that didn't get sold at my garage sale and I'm glad I did. It was a very slippery trail. The week before we'd seen a rattlesnake on the trail, so I was beating the rocks and bushes with the poles ahead of me to clear the way.
I decided to stay in the shade of these big boulders to rest and decide if I wanted to try to go any higher. There was a bit of a flat section ahead that would let me get closer to the rocky section of the peak, but I was tired. I sat there all alone enjoying the views and thinking it odd that no one else was around. Finally, I heard some rustling and figured somebody must be making their way down.
But the somebody was a heard of about 10+ goats coming right down the cliff!! I don't know if they saw me on the way down, but there they were munching on the trees and grasses and spreading out on the flat section of the climb. I stood up to watch and I was happy they didn't seem to think I was any trouble. There was one that looked pretty young, so I didn't want any angry mother butting me off the rocks. I figured I wasn't going any higher and started my slide down.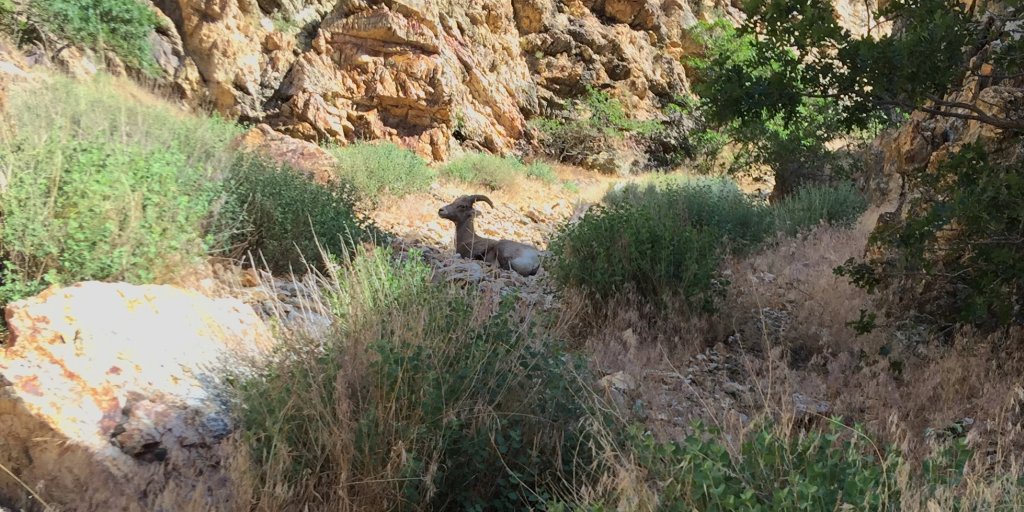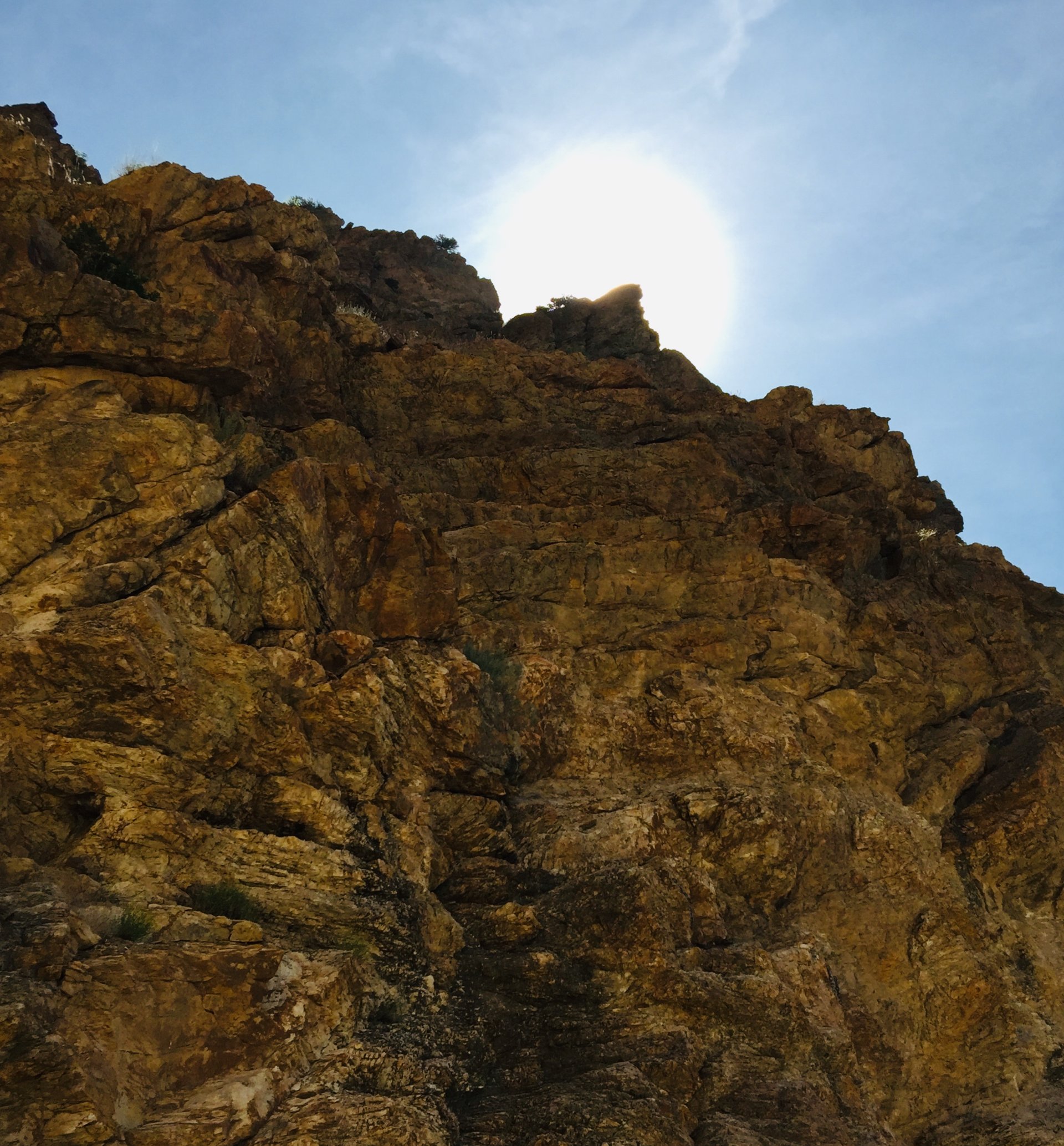 As I said it was a slide down over the loose dirt and rocks and the poles helped a lot. Down at the bottom, I walked most of the way back to the car through the now barely flowing stream. A nice relief for my feet.
As soon as you leave the trail head, there are some very nice houses and this deer posed for a pic at one that is a frequent hang out for more than one of them. He stood there as I drove by without a care in the world.
I will try this route again earlier in the morn or maybe later in the day so the shade goes up farther and maybe I won't have to worry about goats! I'd like to be able to make it up a steep climb without having to catch my breath every 30 feet!
Mark