Whoa Nellie
I was out on the water rather early today, at least for me. As I neared Pirate's Cove, I saw a couple kayakers practicing and paddled over to say hi. Turned out to be George M. and Ben, who had just come back from their paddle. I can't remember the last time I went for a paddle and didn't run into a CKF member. Must mean I'm spending too much time on the water! As I made the turn out of the jetty, I saw another kayaker coming my way. I had to stop and say hi to him too, because he was paddling a QCC boat; only the second time I've seen someone else in one. His name was Dave and he had heard of CKF. I encouraged him to try a paddle some day and he seemed interested, although I'll miss the prestige of being the only QCC paddler if he does. At least my boat is longer!
It was a beautiful day and the tide was high. The ocean seemed pretty calm, but there was a lot of action at BAR. I didn't care, because there was a lot of water in the back and I went through the arch three times. I hung out at least an hour in the churn and then headed farther south to the beach. An uncommon sight there was a dozen surfers in my usual hang out spot. I went in to say hi and one of the surfers told me they were there because the Triathlon had closed their usual beach. There was little wave action there as I think the tide had reached its peak, so I headed back to BAR. Another half hour of trying to get knocked over and I headed home.
When I got back into the harbor, I found a secluded spot to try my new paddle float. I made it out of a small kick board and it worked really well. It kind of allows me to use it more like a real paddle when I do my paddle float roll. I was doing so well with it, I though I'd try a roll without it. I got up high enough to take a breath, but that was it. I was making so much commotion, that a lady in a fancy house came out on her balcony to see if I was alright! Decided that was a good time to make my exit.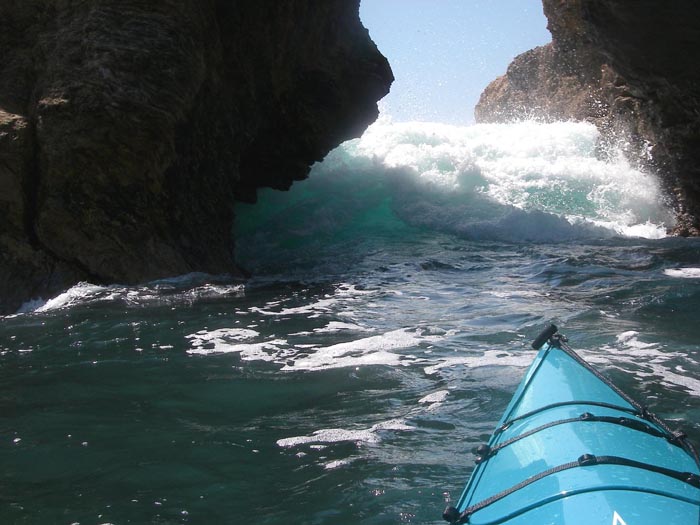 Mark Sanders

HOME